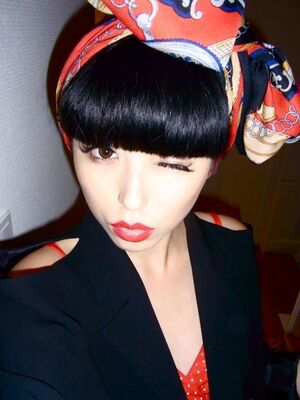 Name: 若槻千夏
Name (romaji): Wakatsuki Chinatsu
Real name: 栗原千春 / Kurihara Chiharu
Nicknames: Chii (ちぃ), Chicchi (ちっち), Chiichan (ちぃちゃん), Chinacchan (ちなっちゃん) and Chinatty (チナッティー)
Profession: Actress, singer, gravure idol and former race queen
Birthdate: 1984-May-28
Birthplace: Yoshimimachi, Hiki, Saitama
Height: 160cm
Weight: 44kg
Star sign: Gemini
Blood type: A

Chinatsu, debuted as a Gravure Idol. Now, she becoming gyaru icon. Having her own fashion brand called 'WC'. She appears in many magazine like Scawaii, Popteen and ViVi.
Ameblo Blog: http://web.archive.org/web/20081202232439/http://ameblo.jp/wakatsuki-2/
WC official Site: http://wakatsuki-chinatsu-wc.jp/
Ad blocker interference detected!
Wikia is a free-to-use site that makes money from advertising. We have a modified experience for viewers using ad blockers

Wikia is not accessible if you've made further modifications. Remove the custom ad blocker rule(s) and the page will load as expected.