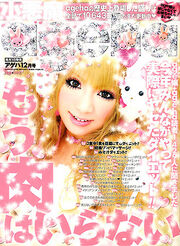 Koakuma Ageha (小悪魔ageha, lit)  is a gyaru fashion and lifestyle magazine originated in Japan. Koakuma Ageha not only caters to the styles of Ageho and Hime Gyaru, but also it includes other similar styles for the sake of variety.
Koakuma Ageha stopped publishing in April 2014 after it's parent company became bankrrupt. Publications resumed after Neko Publishing aquired the name.
Sister Magazines
Edit
Ane Ageha
Was first published in 2010 under the name "One-san Ageha" as a special edition of Koakuma Ageha to become independent in March 2011.
Kimono Ageha
Was first published in 2010 as a special edition of Koakuma Ageha as well. It specializes in Kimono outfits and is mideled by Koakuma Ageha models.
I love Mama
First published in 2008 under the name "Mama nuts x Ageha" as a special of Koakuma Ageha. The publication later on changed name to "I love Mama" and became a monthly since March 2009. This magazine is aimed at gyaru who have become mothers - First ever magazine dedicated to gyaru mothers. 
External Links
Edit
Ad blocker interference detected!
Wikia is a free-to-use site that makes money from advertising. We have a modified experience for viewers using ad blockers

Wikia is not accessible if you've made further modifications. Remove the custom ad blocker rule(s) and the page will load as expected.