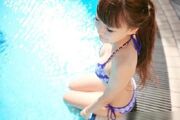 Name: Jessica Kimberley Lizzywiradin
Gender: Female
Born: January 23, 1995
Blood Type: AB
Occupation: High School Student/Model
School: Columbia International College of Canada (CIC)
Section heading
Edit
About Jessica Kimberley Lizzywiradin:
Jessica Kimberley Lizzywiradin is an Canadian-Japanese model. She is a Chinese-Japanese-Dutch descent as her mother is a Japanese Dutch descent and her father is a Chinese descent. Born in Toronto, Ontario, Canada and raised in Jakarta, Indonesia and Tokyo, Japan. She is currently studying in Hamilton, Canada called Columbia International College of Canada and will be graduating next year and taking Arts (Photography, Fashion Designer and Modelling). She speaks 3 fluent languages, English, Japanese, Chinese and she understands a bit of Dutch. She has two brother named Atta Alfawiradin and Fariz Tyowiradin who is also a Canadian.
She is in MIST's K Company. At first she was only doing a photoshoot session in Indonesia and Singapore. Then she started getting into a higher section and getting into a more higher level. But her mother stopped her to do modelling and move back to Canada which her family are mostly living in Canada.
Section heading
Edit
Career:
主催:TBS/ホリプロ/東宝/梅田芸術劇場 ジュリエット役出演決定 2011年9月7日〜上演
ASIAN SUPER MODEL CONTEST 2010 日本代表アジアスーパーモデル賞受賞
TOKYO GIRLS COLLECTION 2011
S/S 出演
SAPPORO COLLECTION 2010/2011
出演 ほかCM • 広告多数出演
Ad blocker interference detected!
Wikia is a free-to-use site that makes money from advertising. We have a modified experience for viewers using ad blockers

Wikia is not accessible if you've made further modifications. Remove the custom ad blocker rule(s) and the page will load as expected.