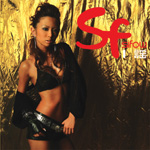 "I Uta" (I謡) is the first (indies) single ever to be released by J-Pop singer-songwriter sifow.
The single was released April 17, 2005 under SGR. It was a limited print with only 2000 copies made. Every copy was sold through her official site. It sold over 1000 copies in just a week. Nowadays the single is quite rare and can only be purchased through Internet auctions. In her book, sifow tells more details about the sales and production of I Uta. It's original sales price was only 700 yen.
Tracklist
Edit
I謡 (I Uta)
サクラshinning (Sakura shinning)
Ad blocker interference detected!
Wikia is a free-to-use site that makes money from advertising. We have a modified experience for viewers using ad blockers

Wikia is not accessible if you've made further modifications. Remove the custom ad blocker rule(s) and the page will load as expected.