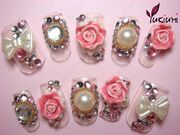 Accessories are a very important part of any gyaru girl!
Gyaru nails are usually very girly and have 3D objects on them. Bows, flowers, gems, pearls and glitter are often used.
You can go to a salon to get them done, but that can be pretty expensive, so I will give you some tips and tricks to do them yourself.
First, the supplies that you are going to need can be found in arts and crafts stores, but I suggest buying them online. Second, you can go to google images and search "kawaii nails" or "gyaru nails" to get an idea of what you want to do. If you've never done gyaru nails before, you should choose a simple design.
Apply a base coat and wait till it dries. Then apply a light pink or any pastel color on your nails. Choose the decorations you want to use and make sure they're not too big. Get a clear nail polish and use it as a glue for the smaller objects. For the larger ones, I sugest using nail glue so that they last longer. Apply an over coat and you're done!
Hope this helps you!
-XOXO-