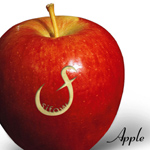 "Apple ~Aka Ringo~" (Apple~赤りんご~) is the fourth and final indies single to be released by J-Pop singer-songwriter sifow.
The single was released November 25, 2005 under SGR. It was a limited print with only 2000 copies made. It was a 10% charity CD. Every copy was sold through her official site, just like all of her indies singles. This single extremely rare and can only be bought from Internet auctions. It's original sales price was 1000 yen.
Tracklist
Edit
Apple~赤りんご~ (Apple ~Aka Ringo~)
DAYS
花影 (Hanakage)
Ad blocker interference detected!
Wikia is a free-to-use site that makes money from advertising. We have a modified experience for viewers using ad blockers

Wikia is not accessible if you've made further modifications. Remove the custom ad blocker rule(s) and the page will load as expected.